Mighty Mustard® cover crops have been put to the test by everyone from organic vegetable farmers in Idaho, to corn growers in Illinois, and giant pumpkin growers in Rhode Island. Read their unfiltered feedback to learn how Mighty Mustard® performed on their farms.
"I planted Mighty Mustard® Trifecta™ in a blend with other cover crops into standing corn, and it was the most aggressive cultivar in the blend."
"Mighty Mustard® is a natural biofumigant and helps inhibit weed growth. What's not to love about that?!"
"Mighty Mustard® is the key to building the long-term health of my soil. My favorite cover crop!"
"This has become our favorite cover crop, because it germinates in just about any kind of weather and grows fast enough to provide good biomass."
"The biggest benefit to me is its ability to knock down disease levels in my soil, along with suppression of weeds and adding organic matter."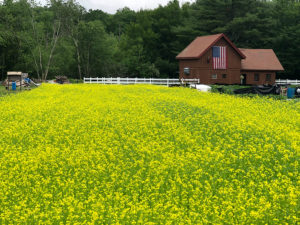 Ron Wallace, world champion giant pumpkin grower and owner of Wallace Organic Wonder, relies on an annual cover crop of Kodiak to suppress soilborne diseases ...